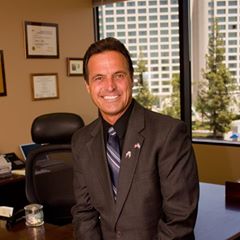 Bio:
Mark Reed, is a Congressional candidate challenging incumbent Congressman Brad Sherman in the 30th Congressional District of California.  Mark is endorsed by over a hundred national, state and local elected officials and leaders. As a Native Californian, Mark truly cares about what happens to Californians, both locally, statewide and nationally.  He was born and raised in Los Angeles and graduated from El Camino Real High School in 1975. Mark believes in a strong education so he went on to study Architectural Drafting at Pierce Jr. College. After graduating, Mark married his childhood sweetheart, Nina. He is a dedicated family man with three adult children and 10 beautiful grandchildren.
Mark is also a successful actor, small businessman and rancher who has worked in Business Management his whole career. Mark bought his first company at age 26 and then opened a small retail store. He sold both and bought out his second company at age 32. Mark has sat on the Board of Directors of several companies, chaired many National Committees and served on the Board of Directors of the CAB at KCET. Because of Mark's Native American heritage, he was elected as the National Representative for American Indians, dealing with the national issues concerning Indians in Media and diversity contracts with the Entertainment Industry Networks and Studios. More than anything, Mark is passionate about his state and about his country.  He has testified several times about vertical integration and consolidation of our media to the Federal Communications Commission.
Mark says; "These actions by media is destroying our ability to receive un-bias reporting of what is happening today in our country." Along with that, Mark has been actively involved in the Veterans' efforts to save the VA Sepulveda and West Los Angeles Medical Centers from encroachment by private sector developers (profit and non-profit) and Mark believes that Veteran's should always come first and the land VA Hospitals sit on is sacred. Mark Reed believes in small government that is truly in tune with the citizens he represents and wholeheartedly feels those who are in government now are no longer in touch with the "everyday Joe".  Mark Reed is the change California needs.