Lisett Guevara and Jim Gulnick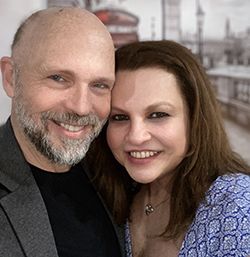 Bio:
Lisett Guevara holds a doctorate in education, masters in industrial engineering, and bachelors in information engineering.  She has run her own business consulting with fortune 500 companies on quality management systems for the last 20 years.  Lisett helps people see what they can be and facilitates the process to get there. 
Jim Gulnick holds a bachelors of science in electrical engineering, masters of business administration, and doctorate level research and education in industrial and organizational psychology.  He acquires new products and processes, finds the right people, and helps new teams achieve high performance.  
Together they have written numerous books on relationships, business, employee development, and more:
90 Day Soulmate - The process to meet your soulmate in 90 days
90 Day Challenge - 90 day business plan in a book
Write Now! - How to publish your book in 90 days
E6 Excellence - How to coach and consult employees
Serving Clients and Community through International Standards 
While Victoria Dreams - The novella sequel to 90 Day Soulmate 
Co-hosts, co-authors, and husband and wife, they have been interviewed and featured in media from Miami to Dallas, London to LA, and Puerto Rico to NYC.  They have helped numerous businesses, individuals, and couples over the last 20 years.