Bobbi Jean Bell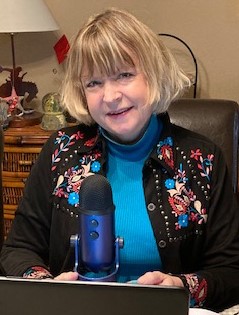 Bio:
No stranger to live radio, Bobbi Jean Bell joined host Jim Christina as his side kick on The Writer's Block for all seven seasons, from 2015 – 2022. An avid reader, Bobbi is passionate about the creative process and the written word in all its forms.
Currently, you can catch her on her weekly OutWest Hour Radio Show featuring Western, Western Swing and Cowboy Country music and Cowboy Poetry every Saturday 4-5pm (MT) on Placitas, New Mexico Community Radio station KUPR.org or on demand at mixcloud.com/DJBobbiJeanBell.
Along with host Gary Holt, Bobbi interviews guests from the worlds of Western Music and Equestrian Lifestyle with all shows airing live and on demand at equestrianlegacy.net. Named the International Western Music Association 2018 and 2019 DJ/Radio Program of The Year, Campfire Café, and Saddle Up America air every Thursday 12:00-1:00pm (CST).