Monique Lore`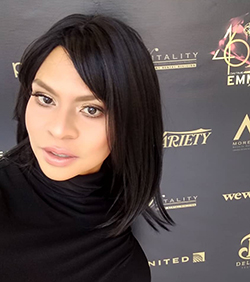 Bio:
Native Angeleno and 2x Emmy Award winning producer, Monique Lore` Stinson
owner of @thewinecaterers, @siliconbeachcoffeeco, @capaquariusmedia and @latchkeykidfilms and  has a passion for startups that merge with brands in and around the "Influener and Awards Show" space in Hollywood, Ca. 
Monique started in 2000 in Reality TV casting as a casting recruiter for a dating show called; Love her or Loose her with friend and colleague, Sam Rhima. Casting Director for Jacqui Pitman and Kalissa Miller on hit shows on MTV like "Dismissed" & "Next". Rounding out her reality TV career with two Daytime Emmy Awards for her work as a Producer oñ "Christina's Court". 
After literally launching her documentary film business in a smokey lounge in the Las Vegas airport after meeting the uncle of Jacqueline Salyers; James Rideout in 2018, Monique was inspired to help with telling #Justice 4 Jackie's story. The 2020 Covid-19 Pandemic put most of her projects to a halt, but  three new projects were born and her and two colleagues hit the road to interview entrepreneurs, first responders, and everyday people around 20 cities in America, and 37 countries between June 2020-November 2022. Launching the world's first Docu-trilogy Genre named " The Pandemic Project Documentary, "The Pandemic Film", and "The Endemic Project Documentary ". The trailer for the first film earning 9 nominations &wins to date.  
Media, Production, Wine, Books, Coffee and Startups. With Monique's down to earth humorous approach to life she aims to continue building her empire while helping others build theirs through entrepreneurship. Monique is looking ahead to 2023 to get her docu films sold and distributed as well as completing her MBA in business and bringing all of her hardwork and vision together for an exciting next chapter! 
The Start up with Monique Lore` is produced by Latchkey Kid Films, LLC. If you'd like to donate and support the channel use the following link and click "donate". Thank you! LINK: 
https://www.latchkeykidfilms.co/