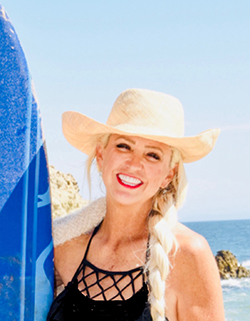 Bio:
With the force of a Texas tornado, the SURFIN COWGIRL (known to her family and close friends as Jenny Lee) blew into town making BIG waves on the West Coast!
Approaching everything in life with unbridled passion and reckless abandon, her diligence and tenacious mindset are anchored to an unparalleled winning spirit! 
As a motivational conversationalist and die-hard prisoner of hope…the Surfin' Cowgirl dwells in the midst of the City of Angels to inspire her listeners over the airwaves like a breath of fresh air laced with gratitude, grace, and favor from on high. 
Join her every Wednesday and catch the WAVE…because the MIRACLES can always be found in the timing!