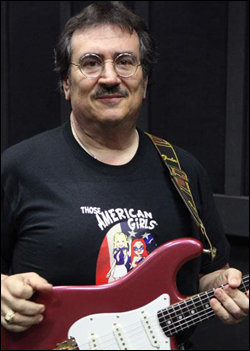 Bio:
Jeff Floro has been playing music since the age of four and a half years old. He started on accordion, and now also plays guitar, bass, mandolin, banjo, drums, assorted percussion, and all sorts of keyboards.. Jeff has a degree in Music Performance: Studio Guitar, from the University of Southern California, and was the first graduate of the Studio Guitar Department. Jeff worked for many years as a studio musician and arranger, doing many recording sessions for music projects and commercial and industrial multi-media and video projects.
Jeff has also been an accomplished audio engineer, mixing music projects, feature films & TV, foley and dialogue recording and editing, and sound design. He composed music for two other LA Talk Radio Shows: Dancing With Ghosts and Nightvision Radio - which he also both produces.
The seed of the FLO Guitar-Enthusiasts started with Scott, while working at the same place with Jeff, found out Jeff played guitar and both started talking about guitars and gear. From that the FLO Guitar-Enthusiasts was born. Jeff brings to the table his extensive experience and knowledge, and, combined with his recording and sound design experience, and, his knowledge of numerous instruments, gives him a great perspective on gear and tone - not just for guitar - but for other instruments as well.
And now Jeff hosts All About Guitar. The show further explores guitar in all of its forms, but even more. Besides talking about tone, technique and gear, Jeff explores other topics to help guitarists become better musicians in a world of constantly changing technologies, where he takes a good look at everything guitar, and sometimes not exactly guitar, but just as important, so we can be more successful as a musician in today's music scene!!