Rona Schweitz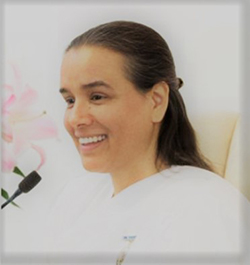 Bio:
Rona Schweitz was born in The Netherlands from parents of Indonesian background and she grew up in Surinam, South America. This blend of Asian traditional family values with the exposure to multi-cultural and multi-religious societies was the basis for her love for humanity. This, together with her deep interest in total health, has made her into a dedicated and warm personality.
Rona combines a love for understanding the deeper truths of life with a desire to serve humanity. This has led her to study medicine at Erasmus University Rotterdam in The Netherlands. During her 15 years of practice in clinical medicine, her experiences were quite varied -- ranging from working in refugee camps to the fields of psychiatry, geriatrics, pain management, and end-of-life care.
She quickly understood that the real discomforts of human beings were not so much on a physical level but more on an emotional and spiritual level. This motivated her to take up her studies with the Brahma Kumaris World Spiritual Organization (BKWSO).  For 30+ years she is not only a student with the BKWSO but she has also developed into an experienced and inspiring teacher/lecturer. For the past 15+ years she has fully dedicated her life to the work of the Brahma Kumaris and has given up her medical practice.
In 1999 she moved from The Netherlands to Curacao where she started the organization's activities in the Netherlands Antilles and then went on to do the same in the Dominican Republic. She has lectured and facilitated seminars and retreats in America, Europe, South America, India and throughout the Caribbean.
Through her easy and caring nature and the ability to translate deeper spiritual concepts into simple and practical lessons she has inspired many people, young and old, to open up to spirituality. Because of her medical background she has special interest in the dynamics of the mind in connection with health and well-being.
Since 2017 until present, she coordinates the activities of the Manhattan Meditation Center in New York.  She has authored several books and created several audio CDs, both for the general public and educational material for the organization, in several languages including English, Spanish, and Dutch.  Experience Meditation, Secrets of Self-Esteem, and Whispers from Another Dimension are just a few.