Anjali Grover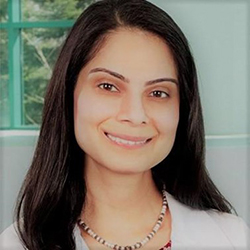 Bio:
Anjali was born and grew up in Queens, New York City. From her childhood days onwards, she recalls observing the 'hustle and bustle' of everyday life in this fast-paced city. With the utmost appreciation of the beautiful cultural diversity she was surrounded by, but completely anchored by her deep family roots in India, Anjali is very grateful to her parents for nurturing this balance of 'East and West.' 
Trained as a semi-professional Indian classical dancer and pianist, she loves using the arts to convey the deep truths and experiences of life — the integration of wisdom and art, 'head and heart.'
For as long as she can remember, her purpose was to live a life of service — seeing the whole world as her family, wanting each to live a healthier, happier, fulfilling life. This sparked her journey into the medical field. She completed her medical training at NYU and Harvard University, and was humbled to be taught by many of the pioneers in the field. She is currently a practicing medical doctor, specializing in the field of internal medicine and endocrinology for the last 12 years.
While amazed by the intricacies of science and the advancements in medicine, she wondered why chronic diseases - physical and mental illnesses - were exponentially rising. She started to deeply feel there was something missing in our approach to patients. This search inspired her practice of Raja Yoga Meditation in 2015 with the Brahma Kumaris World Spiritual Organization. From dancing doctor to now double doctor, at the heart of her approach is treating both the human and the being, understanding that the true roots and healing of disease lie not solely at the physical level, but at a mental and spiritual level. After her many experiences caring for patients with COVID-19, she has realized the healing capacity of seeing health and life from a broader perspective. She is very actively involved in teaching medical students and physicians in training.
The name Anjali means 'sacred offering.' It is a joy for her to be able to offer her life experiences and understandings received from Raja Yoga Meditation with others, so that each one can live their life to the fullest potential.