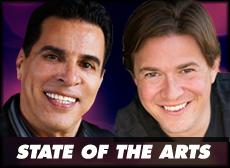 Thursday 1:00pm - 1:59pm
(PST)
Now in its 6th consecutive critically acclaimed year, this dynamic weekly series is devoted to coverage of the live performing arts in Los Angeles, and beyond... with emphasis on theatre, music, dance, events, and stage spectaculars. Hosts Michael Sterling and Andrew David James offer astute reviews, insightful discussions, a live arts calendar, and live interviews with celebrity guests, stars of the arts, and the creative teams behind them.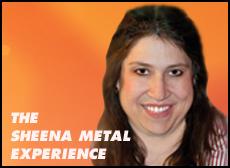 Monday, Tuesday, Wednesday, Thursday, Friday 5:00pm - 6:59pm
(PST)
The Sheena Metal Experience is definitely not your mother's talk radio show.  Combining today's hottest celebrity guests and tomorrow's most irreverent headline-makers, the show is raw, uncensored, and all-Sheena-all-the-time. Using her trademark cutting-edge observation, LA entertainment icon Sheena Metal rips the veil off the human sideshow, exposing Homo Sapiens at their most bizarre -- making you wonder how you ever got by without her. It's talk radio the way it was meant to be, "Sheena-Style": unscripted, unpredictable, a little horrifying, and a lot hysterical. It may be Sheena's show but it's definitely your experience.
Thursday 7:00pm - 7:59pm
(PST)
The premise of The Writer's Block with Jim Christina and Bobbi Bell is to talk to writers of all ilks and get their thoughts, ideas, how they come up with their stories, lyrics, poems, etc. Dig into their heads in a looser format and certainly not scripted. All writers are welcome from novelists, non fiction, poets, musicians and historians, All are welcome. For booking email guestwb@yahoo.com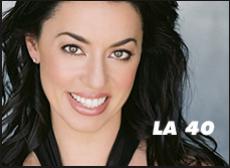 Thursday 11:00am - 11:59am
(PST)
In our youth obsessed world, this quintessential generation-X radio/.comTV show propagates the real truth: That life, and true success, start after the age of 40.
 
 In the first chapter of our lives, ages 0-39, we learn about ourselves. In the second chapter, the chapter from 40-80, we transform from quite caterpillars into awe-inspiring butterflies. Martha Stewart, Diane Von Furstenberg and Samuel L. Jackson are just some of the shining examples of people who harnessed the powerful core of who they were and then coupled it with the 40+ years of life experience they had, in order to really produce magic – All of this after hitting that milestone age of 40 (the age where many people feel that their opportunity to shine has already passed them by). 
 
 The show's mission is to remind the 55+ million American gen-Xers that "you're true, meaningful life starts after 40, because that's when you're actually wise enough to do something significant with your life". It is in these later years that we are truly poised to really soar. LA40, with Katerina Cozias focuses on engaging, enlightening and entertaining audiences with light fun banter as well as with inspirational and motivational messages including, "it is never too late", "don't be afraid of change", "the best time is now" and "heck, just do it already!"