Mia Doran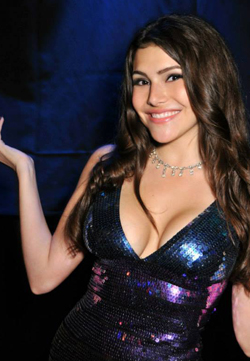 Bio:
Mia Doran is very excited to be on LA Talk Radio as the co-host of Sam in the Morning with Mia.
Her first time on the show was as a guest promoting the live show, Pieces (of ass).  So she has experience with being on both sides of the microphone. 
Originally from Chicago, Mia's goal was to move to Los Angeles so she graduated from high school a year early, then graduated from college and moved in 2010, at the age of 19. She has kept busy working on various TV shows like Zeke & Luther, Mad Men, How I Met Your Mother, Desperate Housewives, Community, Suburgatory, and as Executive Producer and lead of the movie DEAD GIRLS. 
Starting acting at the age of 9, she was cast as a performer in the American Girl Theater in Chicago as well as other theater roles.  She has also graced the covers of magazines, billboards, and posters.
Having worked as a producer, actress, model, singer, and dancer she can now add radio co-host to her resume.  Just proof that if there is an opportunity Mia will go for it.