iLan Azoulai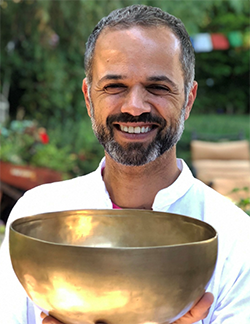 Bio:
iLan is a Spiritual Mentor, Life Coach, Sound Therapist & Musician, for women who desire to reclaim their power and manifest abundance integrating power of frequencies, sound, intention and the power of speech.
iLan guides individuals during and post crisis with wisdom rooted in Kabbalah and Judaism, with the use of Frequencies, sound and custom-made herbal tea, HiTea™. iLan combines the use of handmade Tibetan Bowls and developed a Binaural beats techniques to detoxify the body, initiate healing and start manifesting abundance in relationships, work and most importantly; SELF.
iLan takes a spiritual look at every situation in life, relationships communication, choosing partners, and overall bringing to light that every materialistic, physical happening has a spiritual root cause.  
iLan created the "The Sacred WE"™ and the "What-Why-How"™ workshops, that engages individuals in creative solutions and draws wisdom from Kabbalah and Judaism
iLan is certified NLP & CBT Coach & Speaker, Reiki practitioner and multi-facet artist working with Sound and Vibration, Frequencies, Spoken Word, and Music.
iLan created HiTea™, a custom tea mix that combines different plants and herbs to cultivate heart opening experience and activates different energetic centers in our body in group and personal sessions.
Visit iLan here: www.facebook.com/bodysoulsound
More information about HiTea™ can be found here: www.facebook.com/hiteamix