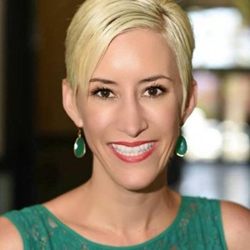 Bio:
The multi-talented Jennifer K. Hill is focused on giving everyone access to his or her own greatness while having an extraordinary life with a career they love. Between her hugely successful legal staffing agency, JHill's Staffing Services, and her first book, Stop Hoping... Start Hunting! A Job Seeker's Guide to Finding A Dream Job, Jennifer K. Hill has helped tens of thousands of people land their ideal jobs.
Jennifer K. Hill has spent over a decade as a speaker, corporate trainer, blogger, radio and television personality, recruiter, and career expert. She has appeared on Good Day LA, KTLA, CTV, CBS, NBC, ABC, FOX, and BBC News as an expert in the field of recruiting and job hunting, in addition to being a featured speaker for the Association of Legal Administrators, UCLA, PIHRA, LAPA, IMC, Kaiser and Paul Hastings. She was also an unexpected guest on CONAN: youtube.com/watch?v=Fm6Jauv2F6s
Jennifer K. Hill and her family have made Southern California their home since 2004.
For more information contact:
Jennifer Hill
P: 760-641-3477
getyourselfthejob@gmail.com
To share feedback on the show, please use the following Facebook page link: facebook.com/GetYourselftheJob