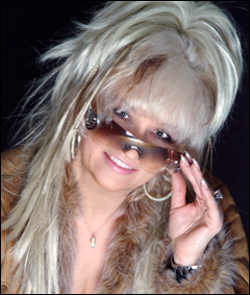 Bio:
ACCENT ON! is hosted and founded by the unmistakably accented personality: ILONA EUROPA. The weekly Monday show places an Accent On success stories of people from around the world who are making a name for themselves in the United States. Airing since 2012 with topics ranging from music, art, health, food, politics, pop culture, and life reinvention, each episode showcases the multiple facets of ILONA's international guests and how they influence American Culture.
Special thanks to Natasha Miraya for producing our episodes since 2019.
ILONA EUROPA is a Singer/Songwriter with a European Music Academy Vocal degree, a Mentor, Talent Developer, Consultant, Coach, and the award-winner of several international vocal competitions. She is the voice of SONY's ILONA! Universal Female Vocal Toolkit Loop Library. ILONA is also a Sony Sample Library creator for Cinescore for their film soundscapes including: New Baby! Children's Music Classics software. ILONA's vocals and songs are available on iTunes, and has been licensed for film and TV placements. Her In-Store features in Global Top Retailers include: Chanel, Abercrombie and Fitch, Adidas, and Coldwater Creek. From the clubs in USA and Europe, in genres ranging from Rocktronica, Pop, Rock, and her Enya-like soundscapes, ILONA landed features on the Billboard Magazine, Remix Magazine, Woman who Rock Magazine, EQ Magazine, and Best Magazine. With her singles "Live Forever, "Degree of Love", and "Because I Love You", ILONA charted on The Billboard Global Dance Charts, and debuted her music on the game "Helix" for the Nintendo WII system.
ILONA EUROPA is the recipient of the Polish American Film Society Friend Award for her dedication in showcasing Polish culture in America. ILONA also works with the following charitable and humanitarian organizations: Childhelp childhelp.org, Rock Against Trafficking rockagainsttrafficking.org, and the International Stem Society for Human Rights isshr.org.