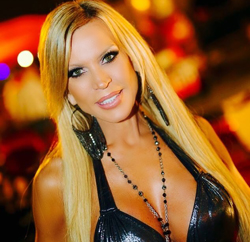 Bio:
An adult superstar since the '80s, Amber Lynn is symbolic of a California born-and-bred, rockin' wild child - blonde, bold and smokin' hot.
Amber and Ginger were sometimes referred to as "the Lynn sisters." due to the fact in real life they actually possess the exact same middle and last names. But the mark Amber would leave on the hearts of XXX fans, far and wide, would be indescribably her own.
Amber's career is long and distinguished. She was already a bikini and figure model and involved in the raucous Sunset Strip club scene when she met Althea Flynt, the wife of iconic pornographer and Hustler founder Larry Flynt, and famed Hustler photographer Clive Mclean. Starting out in photo spreads for Hustler, Chic and Penthouse, Playboy, High Society and Club, Amber's 1983 film debut is titled "Personal Touch III," directed by Bobby Hollander.
After a few years in the movies, Amber then succeeded as one of the most famous feature dancers on the gentlemen's club circuit and opened the doorway for adult performers to become headliners in cities all over the world. A hiatus from film work in the late 80's saw her earning up to $25,000 a week in clubs from coast-to-coast and throughout Canada, performing to sell out crowds.
She has also survived tragedies and turbulent times. While many close friends and co-workers were affected by the scandal surrounding underage performer Traci Lords, Amber avoided involvement in the now-notorious circumstances. However, the suicide of fellow performer and friend Shauna Grant was the catalyst for a break from the adult industry in the late '80s. And like so many celebrities of the time, Lynn found herself involved in substance abuse. The limelight dimmed for a period, before Lynn entered rehab in 1999, and successfully put those issues to rest once and for all.
Amber also has the unique distinction of being the actual younger sister of another well-known male performer Buck Adams. Sadly, Adams died of heart failure in 2008.
Male performer and '70s icon Jamie Gillis had a onetime relationship with Amber after they met on the set of her second movie. Gillis passed away in 2010 after a short bout with cancer.
Clean and sober since 2000 Amber is a member of the AVN Hall of Fame, and the recipient of The FSC Lifetime Achievement Award, as well as Hot D'or Lifetime Achievement Award, and countless others.
Her most notable charity work in 1992, to benefit the Youth AIDS Foundation of Los Angeles set a new standard for acceptability of adult performers by the public and marked a first for nonprofit charities accepting contributions from the adult industry. At times when she has stepped away from her adult career, Amber has been a sober counselor working with world renowned interventionists on extremely high level cases, as well as a real estate broker.
Most recently, Amber was vocal in her opposition to the Los Angeles "Safer Sex in the Adult Film Industry" initiative, or Measure B - an initiative to mandate condom and barrier protection use in adult films in L.A. County.
Though she has been a "condom-only" performer throughout the latter part of her career, Amber performed a non-condom scene with U.K.-based performer Keiran Lee. The scene was meant, in part, to show her support for performer's choice in regards to condom use, as well as support for industry self-regulation through performer STI testing.
Loyal fans of XXX have followed Amber Lynn for more than three decades and she remains one of the most recognizable names in the adult industry.
AmberLynn@Rock-n-Sexxxy-uncensored.com