Michele Guzy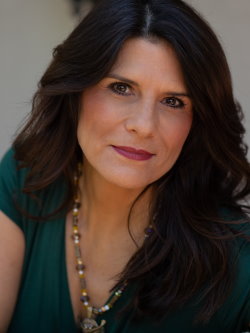 Bio:
Michele Guzy is a Certified Hypnotherapist, Life Coach, Past Life Regression Therapist and Motivational Speaker with 30 years of experience in the field of Behavior Modification and Mind/Body Healing. She is internationally known as "The Mind Coach" and has traveled the world speaking about the Power of the Subconscious Mind with her retreats and seminars.
Raised in Anchorage, Alaska, Michele enjoyed a down to earth lifestyle and realized at a young age that she had certain "gifts" when she was able to communicate with animals and people on a higher level. She started doing Past Life Regressions at the age of 9 and has always had a thirst for the unknown and what our purpose is on this crazy planet.
After re-locating to California in 1986, Michele pursued a lifelong dream of studying the psychology of human behavior and holistic health. She enrolled at the Hypnosis Motivation Institute, College of Hypnotherapy in 1992 and at the age of 24 became the youngest Staff Therapists and Clinical Instructors.
Michele is frequently sought after as a expert guest in the media as being one of the Top Hypnotherapists in Los Angeles. She has been featured on numerous on TV & Radio Shows for FOX, CBS, MTV, VH-1, TRIBUNE, OWN, CMT, DISCOVERY & the SCI-FI Channel. Recently she was on "Expedition Unknown" doing a past life regression with the host, Josh Gates.
Michele's work took a wonderful turn of events when in 2006 she established a 501 C3 Non Profit Animal Rescue Group called "Krazy For Kats, Inc." which is dedicated to rescuing stray and feral cat off the streets of L.A. and adopting them into good homes.
Whether hosting a reality TV show, on stage as a motivational speaker or in a counseling session, Michele demonstrates an amazing ability to help people redirect their subconscious mind to achieve personal and professional goals.
Her Motto... "All answers lie deep within the mind – you just have to be willing to look inside."