Jacqui Holland Govea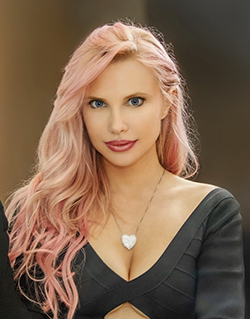 Bio:
With over a decade spent as a working actress in Hollywood, Jacqui has had her share of "LA" relationships and spent many years single and wading through the dating pool.
Her background in Psychology with a focus on NLP (Neuro linguistic Programming) means her life's work is understanding the reasons people act the way we do in relationships. Why do we pick the partners that we do?
Not only is she an amazingly intuitive matchmaker, she helps her clients decode their own underlying values, break old mindset patterns and open up to the loving relationship they have always dreamed of.
Jacqui had a profound breakthrough after moving through the grief of tragically losing a previous significant other.  By utilizing her training and skills to address her own relationship blockages, Jacqui was able to mend her broken heart and truly overcome the most difficult and sudden "breakup" of her life.
Within two years she was healed enough to connect with the love of her life, Ramon. They are now building a new family with a baby on the way.  Jacqui believes that everyone deserves love, and her personal mission is to help as many people as possible to experience the greatest joy in the world: true love.