Andrew David James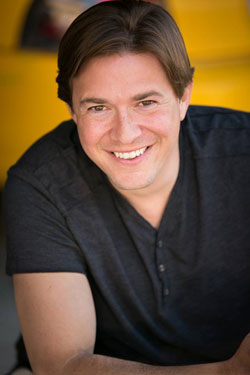 Bio:
Raised in the Midwestern United States, Andrew received his B.A. in Composition and Literature from Pepperdine University and currently resides on the West Coast. A 15-year veteran of stage and screen, Andrew has worked extensively throughout the United States and Europe as an actor, fight choreographer, and event host.  He is a member of the Thousand Oaks Repertory Corporation and the Little Fish Theatre Company, and currently serves as Artistic Director for the Gramercy Artists Theatre Ensemble and Common Man Stories. 
An award-winning director and performer, Andrew's extensive Shakespearean resume includes tours and extended engagements as Benedick (Much Ado), Petruchio (The Taming of the Shrew), and Kent (King Lear).  He appeared as Charles in the Neil Patrick Harris smash hit Delusion, Dennis in Loot, George in Of Mice and Men, and as Bob Cratchit in A Christmas Carol at the Shear Forum.  His television credits include appearances on TNN, PBS, Fox, and the History Channel. His directorial credits include Jason Robert Brown's The Last Five Years, Guys and Dolls, Romeo and Juliet, Selling Love, and the acclaimed world premiere of Dark Heart of Poe at the Simi Valley Cultural Arts Center. 
As a public speaker and live events representative, Andrew has been privileged to host fundraisers and galas to benefit Heifer international, Doctors Without Borders, and Operation Smile, in addition to other philanthropic organizations.  He serves on the boards of two non-profit arts educational organizations and he relishes the opportunity to live and work in beautiful Southern California where he can raise his children in a city with such a thriving artistic community.