America's Invisible Heroes - Replay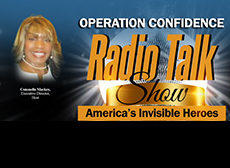 Operation Confidence's mission is to provide stable, permanent housing with a wide range of supportive services including employment opportunities for disabled veterans. All proceeds raised go to Operation Confidence Workforce Development/Employment Development Center & Residential Dwelling building fund.
Our immediate team leaders:
Consuella Mackey, Executive Director / Host
Matt Davison, US Air Force Veteran-Operation Confidence Board Member /Co-Host 
Lyeah Granderson, Chief Executive Officer, True Ambitions Community Center/Announcer
Elizabeth Yeo, US Navy Veteran, Founder/CEO of Veteran Charities Initiative- (a weekly segment) "Veterans in the Workplace"
Show Time:
Thursday 12:00pm - 12:59pm
Original Show:
America's Invisible Heroes