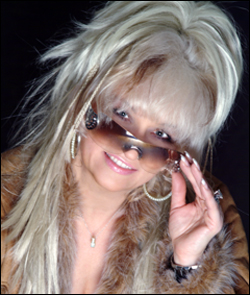 Bio:
ILONA EUROPA is a Billboard Charting, Singer/Songwriter, Mentor, Young-Talent Developer, Agent, Coach, SONY Recording Artist, Sample Library creator. Her professional sound and scoring libraries are the industry standard. Sony tapped her for their vocal library named ILONA and for Cinescore for their film soundscapes. Ilona has her vocals and songs in Film, TV & international ads.
A graduate of Poland's Academy of Music with a master's degree, Ilona is a rare combination of technical excellence, classical musicianship and practical global performance experience. She is a voting Member of the Singer/Songwriter wing of the Grammy Society - The Academy. Her music is featured in-store at Global Top Retailers including Chanel, Abercrombie and Fitch, Adidas, and Coldwater Creek. In 2011 Britain's titan Music Sales Co., commissioned Ilona to create a series on vocal, performance and electronica techniques as training DVD's.
From the clubs in Europe with her Rocktronica, to her American Pop, Rock, and the soothing vocalese of her Enya-like soundscapes, ILONA EUROPA defines diversity and longevity through creative brilliance.
ILONA EUROPA's highly creative and vibrant personality blend her musical experiential base with artistry, creativity and business, fusing into different artistic centers of focus and commerce. Somewhere between an agent, a matchmaker and a white witch - ILONA EUROPA's decades of performance, training and international travel have provided her a wealth of international contacts and friendships which she uniquely has developed into the ultimate artist network.